Congratulations on your decision to take the first step to start improving your health and well-being. We will guide you through the very easy process of becoming our new patient.
Greeting – Upon arrival to Binder Chiropractic, our pleasant and experienced chiropractic assistants will greet you with a smile. Our goal is to make your visit to Binder Chiropractic the best experience you will ever encounter in a doctor's office. Our new patient specialist will personally assist you either on the phone or here in the office with completing the required patient history information utilizing our paperless electronic medical records system.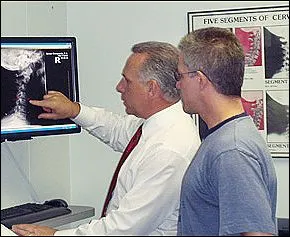 Paperwork – One of the most dreaded aspects of visiting a doctor's office is completing the amount of paperwork required to gather your health history. By utilizing our secure electronic medical records system, the use of paper has been virtually eliminated. Please visit the New Patient Forms tab on the home page to complete your paperwork from home! If you are unable to complete them from home, one of our new patient specialist will be available to you upon your arrival to assist you in completing our online forms.
Patient Education – You will watch a short 10 minute video; this will acquaint you with how we help our patients regain their health and activities of daily living. To save even more time, this video is available from the home page of our website!
Consultation – You will meet directly with the doctor to review your health history to determine if you are a candidate for chiropractic care. If you and the doctor agree your case fits, you will move next to the exam.
Exam/X-Ray – A standard physical, orthopedic, neurological and chiropractic tests will be performed to determine the cause of your condition. Using our digital x-ray machine, the chiropractic assistant will accurately capture views for any spinal problems that may reveal pathologies, and allow the doctor to treat the concerned area(s).
Report of Findings – Following the doctor's evaluation of the collective data of your case, he will explain in a simple manner his recommendations for treatment, making certain you completely understand the underlying cause of your condition and the treatment goals.
Treatment – Our doctors provide the most effective and appropriate form of spinal manipulation to gain the best result with your condition. The doctors may also order any of the following methods of physiotherapy: electrical stimulation, mechanical traction, ultrasound, manual therapy, laser, spinal decompression, migun therapy, therapeutic exercises, ice and heat.